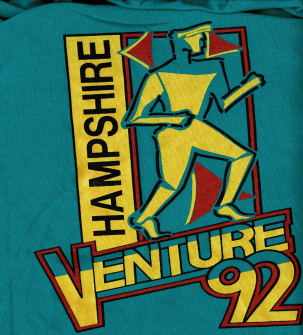 Thirty years ago, there was an idea to bring the greatest adventures to Hampshire's Venture Scouts (they would be replaced by Explorer Scouts and Scout Network). This would become Hampshire Venture 92 and what memories it would forge.
Ian Greig, formerly Assistant County Commissioner for Venture Scouts and the Camp leader for the event reflects on the event and writes an open letter to those who came and made it so special.
---
Dear Citizens of Camberwick Green, Chigley and Trumpton (do you remember!)
I hope I find you well after so many years and you are all enjoying life.
It is 30 years since we were all at Rushmoor Arena for 'Hampshire Venture – '92' and I thought that although a reunion was not practical something written would catch up with as many as possible, irrespective of location. 
Many of you who attended will also have been involve in the planning and may recall the many meetings and all the time we spent together. The wonderful contributions of so many of you and teams such as 'The Bog Squad', HSX and the Hard Rock Cafe, all the many activity teams, those who fed us, the contribution made by the Military Police and the senior team, too many to name. 
The week itself I will never forget; I recall my words to you all at the final briefing the night before "you know what needs to be done - so get on with it" and you did it with style and gusto. Then the storm that took down so many tents on the first night – must have been a Guinness Book of Records record on how many people you can sleep in one tent that night. I never told the County Commissioner or tried to claim the record – not sure that The Scout Association would have been happy!
The opening ceremony with Steve Peck when the whole camp became as one team with so much energy and enthusiasm from you all. The activities, the trip to Thorpe Park with all those coaches! The open day with all our VIP guests, It's a Knockout, the Red Devils - the Parachute Regiment Freefall Team and the Royal Military Motorcycle and Horse Display Team, the surreal event of taking the VIPs into the refreshment tent for tea and the whole National Scout Orchestra was playing – just like something out of Monty Python's Flying Circus (sorry that was my generation – I know you saw the repeats).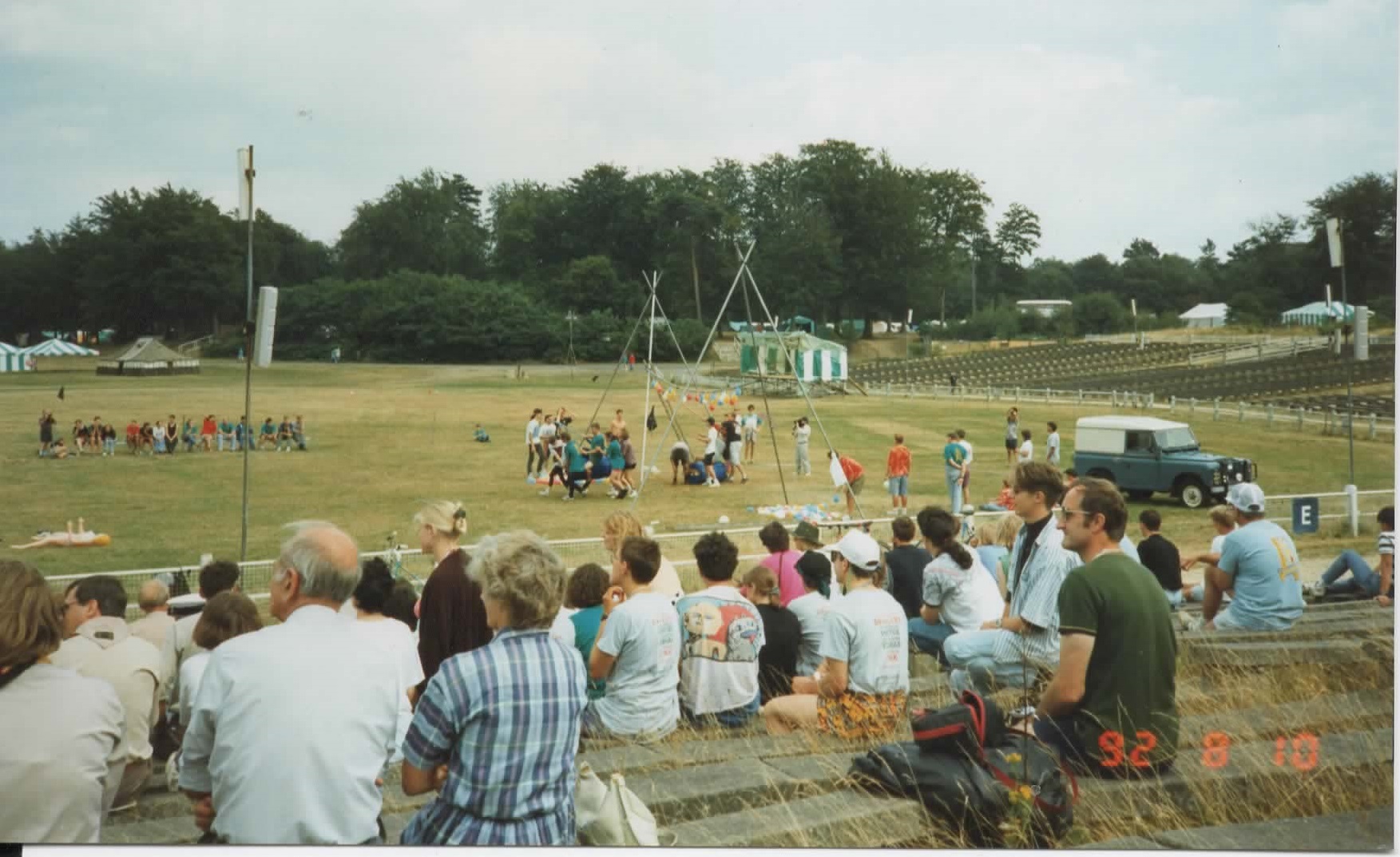 A few stories you may not have known about. We had a visit by Rushmoor Council's Health and Safety Inspector, and they were all fine but were concerned about the jelly being made in the old latrine cans which we assured them were not for eating but for the jelly fight. Also, on the last evening (remember The Rocky Horror Picture Show) the local Civilian Police had a complaint about the noise (our music could be heard in Fleet some two miles away) but the Military Police refused them access to the site and turned them away. When I heard about this I asked if any of the Military Police were still on site and was told they were the one's dancing on the bar! Thought best to say no more. By the way, who did kidnap Square Ted?  I still have the official Ministry of Defence Police Crime Investigation Report. 
It was a very special week for me and one I will never forget and having spoken to a few of you in the last few days clearly nether have you.  I am sure you also have many memories that you would like to share - 30 years on and I very much believe "Venture Scouting did work in Hampshire" and I am very proud of what you achieved together and to have been part of it.  Although a reunion is not practical, we have set up a Facebook page at Hampshire Venture | Facebook.   
It would be great if you can share your pictures and memories via that.  If you're not on Facebook then please send anything you'd like to share to [email protected] I would very much like to hear from you and to know how you are all are and what you are doing.  I will attempt to compile the responses into some sort of record for Hampshire Scout Heritage to keep in their archive. 
My very best wishes to you all,
Ian